How do you choose from the best Shower Head manufacturers on the market and how do you find them?
When we refer to shower head manufacturers, we mean anyone who can provide us with shower heads and inventory. These include manufacturers, wholesalers, suppliers, retailers, as well as distributors of products and inventory.
First, you should determine what type of shower head supplier you're looking for, here are the most common options:
A shower head manufacturer can produce your own product ideas (Your custom shower heads)

A shower head supplier (which can also be the manufacturer) can offer shower heads that already exist, such as a product line or a range of accessories.

A wholesaler or distributor can supply shower heads and fulfill orders of already-existing brands and products.
Domestic vs. Overseas shower head manufacturers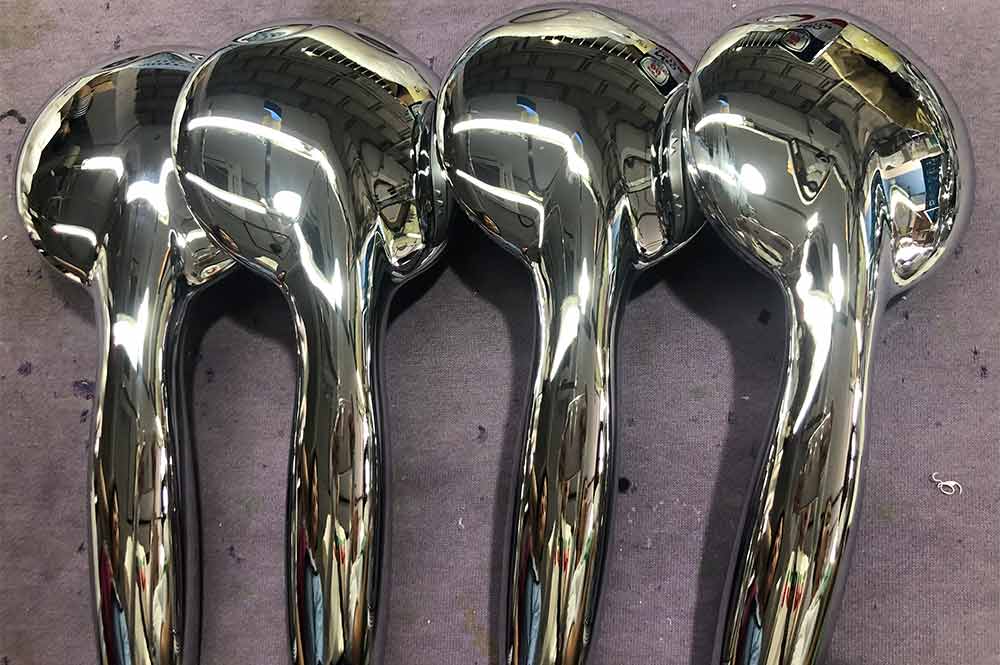 For every product, every user wants the best service for their money, and so you must only sell and distribute the best products possible when it comes to showerheads. The shower sets the atmosphere for the day's work or your evening after a busy day. Therefore, if you are thinking of going into showerhead sales, you must only get products from reliable manufacturers. Either they may be local manufacturers or foreign, your choice is dependent on your tastes and the demand of consumers.
In the search for suppliers, you can budget for a manufacturer or wholesale both domestically or overseas. Suppliers overseas are located in Taiwan, China, and India, which are Asian countries. It is cheaper to purchase your products abroad, especially in these countries. In actuality, there's more to it than the initial investment and cost of each showerhead.
Both domestic and overseas sourcing have their advantages and disadvantages:
Domestic Shower Head Manufacturing Advantages
Your intellectual property rights are secure.
The shipping costs are cheaper, and the shipping timing is faster.
Communication is more straightforward and without language impediments.
It is easier to know reputable manufacturers.
Payments choices are flexible, and there is high payment security
Positive visions: For instance, in the American community, they are aware that American-made products are produced with high quality than manufactured in other countries, so they are consent to pay more for them.
Domestic Shower Head Manufacturing Disadvantages
Competitive costs are scarce. With a limited number of exceptions, the domestic charges usually are higher than the international prices.
Less product choice: It is evident that manufacturers no longer produce so many items entirely in some countries.
Product limitations: The production capacity of some manufacturers is minimal when compared to that of foreign manufacturers. Most times, these manufacturers will not be able to produce your showerheads in large quantities.
Foreign Shower Head Manufacturing Advantages
You need not worry about the raw materials because the foreign shower head manufacturers have easy access to them, and that makes the showerheads cheaper. And so, over time, you realize that foreign showerhead production is a lot less expensive than domestic production.
The cost of production and labor is also significantly lower overseas than local production.
There is more awareness, and you can easily find foreign showerhead producers on search engines than the domestic manufacturers
Many countries have implemented incentives to propel foreign businesses, these include reduced taxes and decreased red tapes and regulations that guide the trade. These incentives will help you begin your business at a friendly cost and the scale you need. 
Foreign Shower Head Manufacturing Disadvantages
Under-supervision: You can easily monitor the production of goods in your country, but if you do not have a third party in the foreign country that is producing your showerheads, you will have to make do with whatever you get.
Most people believe that any product that is coming from outside their country is of inferior quality. This bad press has a negative influence on the goods as it reduces your product value and decreases sales.
You may also have a language barrier and some time zone differences, and this will make communication very difficult. This, in itself, is a limitation to foreign showerhead manufacturing.
You will have to battle custom papers, clearance, and shipping time and cost when you choose to use foreign showerheads.
Low intellectual property protection. Some offshore manufacturers may reverse-engineer the shower heads they're making for your company and use similar designs to produce their own version.
Final Thoughts on Where to Manufacture Your Shower Heads
Use domestic manufacturers if the product you want is not yet perfect, and you need to monitor its production.
Use foreign producers if you need an ample supply of showerheads at a lower cost.
If you have a sensitive time from order to delivery, think domestic shower head manufacturing.
Where to Find Shower Head Manufacturers?
Now that you have a better idea of exactly what shower head manufacturer you're looking for, as well as the advantages and disadvantages of domestic vs. overseas sourcing. Now VOLI will tell you some great ways to find shower head manufacturers.
1. Trade Shows
In old times before the advent of the internet, people showed off their products in physical markets, and trade shows where the consumers could pick from an array of products depending on their preferences. Trading has improved with the advent of the internet, and though producers use the same concept, they make use of the internet to display their products.
Countries like China and the USA have these trade shows yearly, and they post most of the products in the shows online so that you can assess the qualities of their materials via Google and Facebook. You can join the Facebook group page for showerhead manufacturers to always get information on the latest products available and their specifications.
Trade shows in China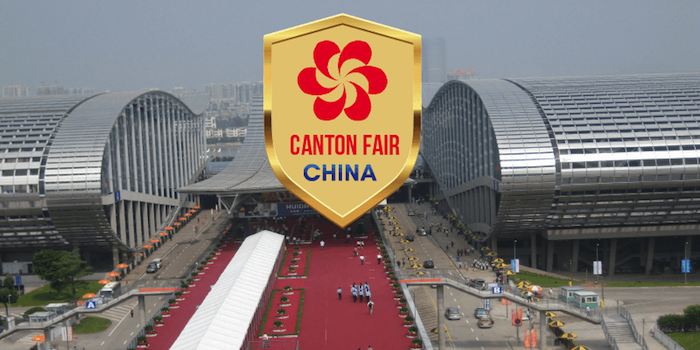 China is the largest manufacturer in the world. The famous trade shows in China include The Yiwu Commodities Fair in Zhejiang; The Canton Fair in Guangzhou; and the East China Import and Export Commodity Fair in Shanghai.
2. Business Directory
These will help you find manufacturer details easily. You may have to pay to access some directories, but these will contain the top products, their manufacturers, and suppliers, and so will be worth the amount you pay.
You may also choose to start with free directories depending on your budget, but the manufacturers you get from these may not be reliably compared to those in the paid directories.
Some online directories are Oberlo, Worldwide brands, Sourcify, SaleHoo, and many others. Some manufacturers have a minimum quantity of goods that you can order for and purchase. That helps you to save cost when you are buying the showerheads in bulk, but when you are just starting up your business, it can be financially stressful for you.
Alibaba is another business directory and one of the best ones, and so if it registers as a frequent buyer, you can access their more detailed directory.
As the biggest supplier directory in the world, Alibaba will almost allow you to find a manufacturer here whatever your niche or product is. You can find shower head manufacturers and suppliers easily by searching for "shower head" and the words 'private label', 'custom logo', or 'manufacturer' in the Alibaba search bar.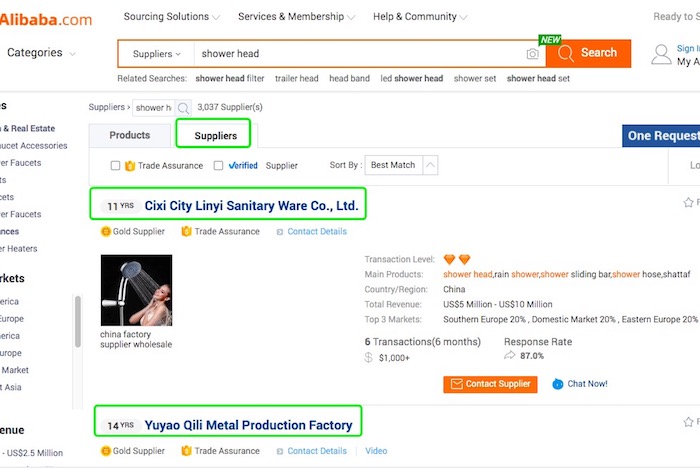 3. Google
Google provides people around the world with the answers they need to find. You can easily find shower head suppliers on Google with search terms include the shower head (or hand shower head, overhead shower head, and more) and words like wholesale, manufacturer, supplier, factory, and distributor.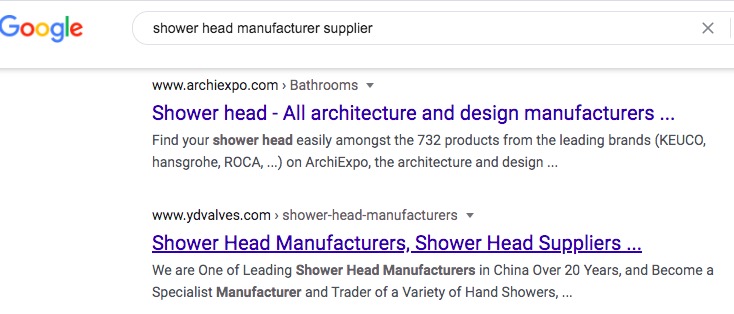 4.  Local library
Most domestic or local libraries have the contact of many companies listed in their phone directories, and an easy way to access showerhead manufacturers is to go through the library listings.
These directories are comprehensive and contain information on domestic manufacturers, their products, and distributors. Depending on the size of the library, you may have to call the business department or call ahead of time to get the information you need.
5. Referrals
Another great way to find reliable showerhead manufacturers is by referrals. Here, you rely on the testimonies of your business counterparts that have purchased products from a particular manufacturer and love the product. With referrals, you hardly go wrong because every producer wants to have the best outcome.
You can also check consumer reviews on the pages of manufacturers that have blogs and pages online. They will inform your decision to partner with them or look for a different manufacturer. You can also ask the manufacturers to refer you to the manufacturers of the specific products you are searching for if the products that they produce do not fit your specifications.
How to Approach Shower Head M
anufacturers?
1. Requesting a Quote
After you get the right supplier of the showerhead, what happens next? Do not be in haste to send them your product specifications and a request for their quotation. You should take the time to plan your interaction with them. You should consider what questions to ask and what to say. Some questions you can ask are:
Cost of Production: How much will the product cost?
You should know the cost per unit of each showerhead so you can compare it with your budget and decide if you can afford to produce that quantity of showerheads. You can request for the cost of many products and see if there are discounts for bulk purchases.
Samples: What am I getting?
You can ask for samples of the product so that you can have an idea of what products you are purchasing. Depending on the company, you may have to pay for these samples or get the samples with no cost attached.
What is the minimum quantity I can order?
This should be one of the questions you should ask the suppliers so that you can have an idea of the cost and if it is within your financial capacity.
How long will production take?
You have to factor in the time that it will take the company to produce your showerheads and decide if you can wait that long. That should come in a written agreement so that the company holds its own end of the contract.
Payment Agreement: How do I pay?
Some companies will request for full payments upfront before they begin to produce your showerheads, while others will take part payments and collect the balance after they have completed your work. You have to know how the company that is supplying your showerheads works their payments.
Manufacturers get bombarded with quote requests from global clients at all times that are just 'kicking the tires'. So sometimes, suppliers ignore requests, and to avoid this, you must make sure you stick to the following rules:
i. Do not ask for too little supply: if you go far below the company's minimal supply quantity, they will ignore your request. So you should look for a company whose minimum amount is within your budget.
ii. Avoid long emails: your emails should be precise and direct. The companies serve many businesses and ignore any bulky mail.
iii. Avoid bugging the suppliers: your questions should not be ambiguous and try not to ask for too many quotations. You should stick to details and only necessary explanations that will not exasperate the producer.
2. Negotiating Minimum Order Quantities
MOQ represents the least quantity of products that the manufacturer can supply to you. Bulk production is a lot cheaper than the production of goods in small quantities and reduces wastage of materials, so the MOQ protects the manufacturer. However, this is a disadvantage for you if your resources are limited or you want to try out a new product and order small quantities. The good news here is that you can almost always negotiate the MOQS.
3. Identifying reliable manufacturers
After going through all these processes, It's time to pick the most reliable one from several supplier you have approached. You still need to check for the following qualities in your supplier and make sure that they are fit and reliable to supply your showerheads:
Do they have certification to manufacture and supply? If they do, it means they have self-discipline and focus enough to go through all the rigors of obtaining a QCA certificate, and you can trust them to have the same level of dedication in producing your showerheads.
Creativity and self-improvement: does the manufacturer take time to improve their production, and are their works unique and authentic? Your manufacturer should be one who is never satisfied with past successes but always wants to do better.
Do they have a platform where they display their works? Their previous work should be accessible to everyone and should inspire creativity in others.
You can drop your questions below or contact us for more details on the manufacture, supply, and distribution of showerheads. We do not just give you quality products; we work with your tastes and specifications.
4. Start Your Shower Heads Production.
Pick manufacturer you liked, discuss further cooperation and start your mass production of shower heads.