What is a shower hose?
To connect a shower valve to the showerhead, a shower hose is used. When making shower hoses, producers make use of different materials such as PVC and metal. The producers of shower hoses make them in varying lengths too, and they may be strengthened to make them firmer.
How to choose a shower hose?
Length of the shower hose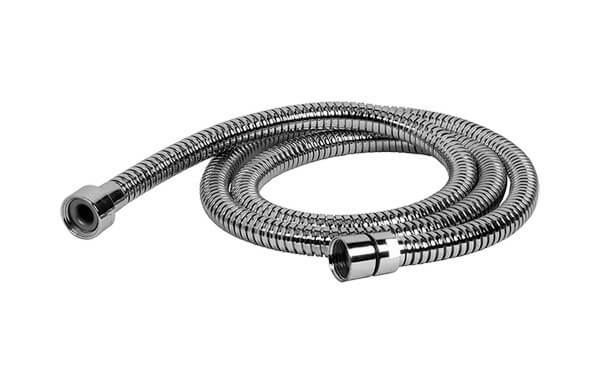 When selecting the length of a shower hose, the user's size is an important factor to consider. As a rule of thumb, choosing a hose that is 10 to 30 cm longer is key. This is to ensure maximum comfort for the tallest potential user. It is relevant to note that depending on the set-up, one may need varying shower hose lengths. For instance, a shower valve 1 meter above the ground may be furnished with a shower enclosure. In contrast, a bathtub shower may be furnished with a tap or valve 50 cm from the floor. Presently, we can find standard hose lengths of 1.25, 1.5, 1.75, and 2 meters.
Shower hose's material
When it comes to materials used in making shower hoses, there are a lot of options to choose from. The quality, price and lifespan of the hose depend upon the type of material chosen.
a. PVC shower hoses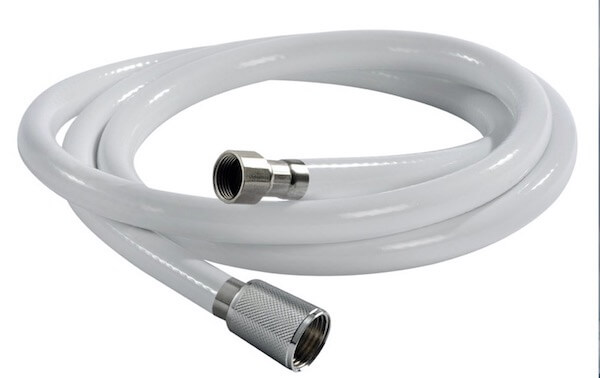 There are essentially two types of PVC shower hoses: reinforce PVC or basic PVC. These hoses have the following advantages they are resilient and easy to use and maintain. They are hygienic to a great degree. They do not rub against surfaces around them. Low-end PVC, however, is more likely to twist or bend.
b. Metal shower hose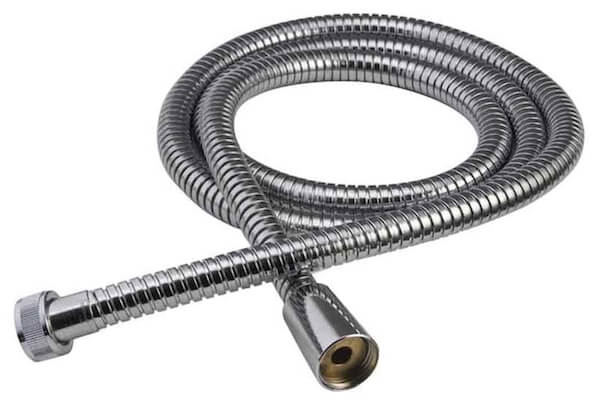 Prevalently made of stainless steel, steel or brass, metal shower hoses are unlikely to twist or bend. Metal shower hoses are durable, but cleaning at intervals is necessary. (particularly in between the coils). Your metal shower hose, based on its environment, may gradually wear out. The type of metal used in making shower hoses determines the quality and lifetime of these hoses.
c. Double interlock metal hoses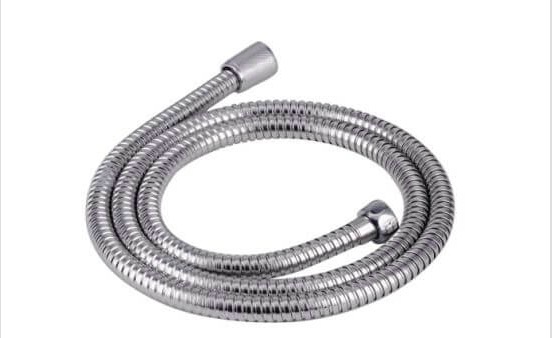 This is a peculiar furnish that applies to metal shower hoses. Double interlock shower hoses, which are higher in quality, will hardly ever twist or bend. They are very strong, durable, flexible, and provide ease and great comfort for the user.
d. Basic metal hoses
They are more likely to twist or bend because basic metal shower hoses are composed of one metal layer. They are also less durable. Basic metal hoses are more likely to rust, depending on the type of metal used.
Shower hose's design
It's a matter of quality. It could be a contemporary look made of plastic or an original look made of metal: For metal, we advise using a shower hose with supplementary plastic coating – so that the skin or hair can't get hagged when showering. Chrome valves and showers are convenient with chrome foil. The glossy look of the metal blends unseasonally and beautifully into your bathroom atmosphere. The recent improvement of making plastic look like metal spirally shaped. This poses as the classic metal hose, also creating elegant visible spotlights. If you want more sophisticated design, a white hose should be chosen. The white tiles and hand showers make it ornamental. Gold, green, blue, and red are the trending colors. They set a soft, fine scenery.
Note: If we could give only one piece of advice, you would purchase a shower hose that the water is safe for drinking. When water sieves out noxious substances from plastics of lower quality, you take what you get. No bargains!
Possible Reasons for leaking shower hose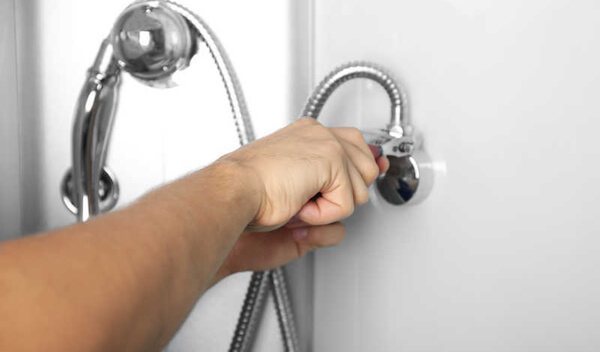 1. Broken hose
Repair method: substitute with a new hose.
2. Accumulation of debris, unsuitable modifications, and scale
Repair method: You should revolve the nozzle of the shower to adjust. It should work, but if it does not, at the middle of the shower nozzle is a small round cap, which should be opened with a small flat screwdriver, using a Torx screwdriver, unscrew the screw. The shower should be on, flush with freshwater, the shower hole should be cleaned with a toothbrush, and then connect and re-establish.
3. Unsuitable connections, a rubber ring is misshapen, inappropriate or very slim pipe outlets and dissimilarity between the shower and the hose.
Repair method: Choose a suitable hose and shower according to the requirements. You should substitute the misshapen rubber ring with a new one and install it again.
How to maintain a shower hose?
Most importantly, you must ensure the metal hose is kept in a natural position that can be stretch when showering. You must ensure that the shower nozzle is on the shelf after use. You must also ensure that you don't coil the metal hose on the shower faucet.
Secondly, it is important to keep the joint between the valve body and the hose from forming a tangled clump when pulling the hose. Be sure to pay careful attention to it. When pulling the hose, use a little energy to keep the metal hose from being fragmented or causing damage to the hose.
How to clean a shower hose?
When cleaning the showerhead, you also have to remove dirt from the hose. If not, the lime-scale and calcium accumulated inside the pipe will cause a blockage. So it is equally important to remove dirt from the hose. It is more engaging to clean the hose than the showerhead.
1. Disconnect the shower hose.
2. Use a needle to clean the holes and to remove all the accumulated minerals and debris.
3. Soak the hose in baking soda solution and vinegar.
4. Let it stay through the night.
5. Rinse it appropriately with lots of water.
How to replace a shower hose?
The reasons for changing a shower hose are numerous. The hose could collapse internally. The hose could be spoilt in some way. It could twist, therefore impeding the flow of water. The shower hose may have a hole, making it leak. It could be that perhaps you want a change in the color, style and length of the shower hose.
1. Before you begin, it is important to conceal your shower tray's plug holes to prevent the loss of any hose washers during the process.
2. Locate the ends of the hose (connected to the showerhead and the shower body) and unscrew. These should be hand-tight, but if necessary, use a pair of pliers and a piece of clothing to unfasten the ends gradually. Accumulation of minerals may necessitate slightly more energy to be used.
3. If the shower hose is not damaged, you can disconnect the black rubber washers from the hose's end.
4. Make sure that the new shower hose has washers inside each end. If they don't, the washers from the old hose can be used again if convenient.
5. The shower valve and the showerhead should be fastened to the ends of the new hose. It is important to note that for some hose designs, the ends may be nut-shaped or conical, which then may only fit in a particular way. Some conical ends are also broader than others, which shows the accurate inclination for fitting a hose to the showerhead.
Top shower hose manufacturer lists
1. VOLI
VOLI is a kitchen faucet and bathroom system manufacturer based in Ningbo, China. The Founder Zhang Huajun had been the technology engineer mainly responsible for new item's molds and mold repair for other factories.
As a kitchen and bathroom accessories manufacturer since 1996, VOLI is focused on providing clients with the best possible service: with responsive communication, timely assistance, and by providing the best possible faucets at the best possible prices.
VOLI shower hose manufacturer accepets custom shower hose prouction for globsl clients. The available Shower hose styles: hand held shower hose, mixer tap shower hose, Screwfix shower hose, flexible shower hose, Chrome shower hose, universal shower hose, detachable shower hose, etc.
2. Strongco Company Ltd.
STRONGCO company has many years of experience in the production and manufacture of bathroom accessories and kitchen products. Their products are sold all over the world, with many OEM manufacturing partners of well-known domestic and foreign brands.
Most of their shower hoses have passed UPC and cUPC certifications, and comply with applicable American and Canadian national standards. They can also accept custom production, too.
3. Xiamen Uwill Sanitary Ware Co., Ltd.
Xiamen Uwill Sanitary Ware Co., Ltd. is located in Xiamen, one of China's five special economic zones. It was established in July 2007, specializing in the design and manufacture of various high-end kitchen hoses, shower hoses, garden hoses, machine pipes, and other sanitary accessories. As an OEM manufacturer in China, Uwill has received good feedback from global partners, including famous brands in Europe, the United States, Southeast Asia and China.
4. Ningbo Acro Fluid Control Co., Ltd
NAFCO is a professional manufacturer of valves, sanitary ware, fittings and pipe fittings, with more than 10 years of industry experience and an annual production capacity of 1 million sets. This company focuses on quality-oriented production processes, with on-time delivery and strict quality control, as well as timely response communications.
5. IFT
IFT has been focusing on the development and manufacture of flexible pipes for the fields of sanitary, plumbing, heating, air conditioning, and renewable energies. This French company has a high-performance machine park and an attentive team working with passion for the satisfaction of our customers.
A subsidiary of the French OMERIN Group, IFT benefits from the Group's extensive expertise: Research & Development, textile braiding, metal braiding, elastomer extrusion, varnished or impregnated braided sheathing.